Tourism in Dieppe and its region
The city of Dieppe will surprise you. Our seaside resort, the first accessible from Paris, is bursting with energy, history and culture.
Dieppe is the first city with a beach accessible from the French capital, which once allowed it to develop its tourism.
Dieppe International Kite Festival
Organized every two years in mid-September, the Dieppe International Kite Festival has attracted nearly half a million spectators in recent years, who flock to the beaches and lawns in front of the castle. A unique show to experience, at least once. The sometimes bright colours, sometimes ubuesque shapes, of these objects flying in the sky are such that it cannot be told but is fully lived. For a full week, some forty nations are marching in this largest global gathering on the subject. Next appointment: September 2020.
Potato Garden of the Château de Miromesnil
Located in Tourville-sur-Arques, 13 kms from your Brit Hotel Dieppe, the Miromesnil Castle and its vegetable garden is a must in your Dieppe trip. Listed as a historical monument heritage site since 1945, the castle was completed in 1600. The history of this castle is great and saw the birth of the writer Guy de Maupassant.
Miromesnil is also famous for its vegetable garden, also protected by the label " Remarkable Garden ". The garden combines French and English knowledge and has been cultivated in this way since the late 1940s.
The Castle of Dieppe became a Museum
Located by the sea, the Dieppe Castle Museum overlooks the English Channel (30m above sea level), since its construction at the end of the 12th century. First built for the defence of the city, the Château developed in the 17th century to accommodate residents and become a barracks. Transformed into a prison during the period of the French Revolution, he regained his military role during the two world wars. In the meantime, in the 1920s, the castle became a museum. For the panorama, for the history and for the works it contains, the museum is a must in Dieppe.
We will also not forget to advise you to visit the abbey of the Dukes of Normandy located in Fécamp.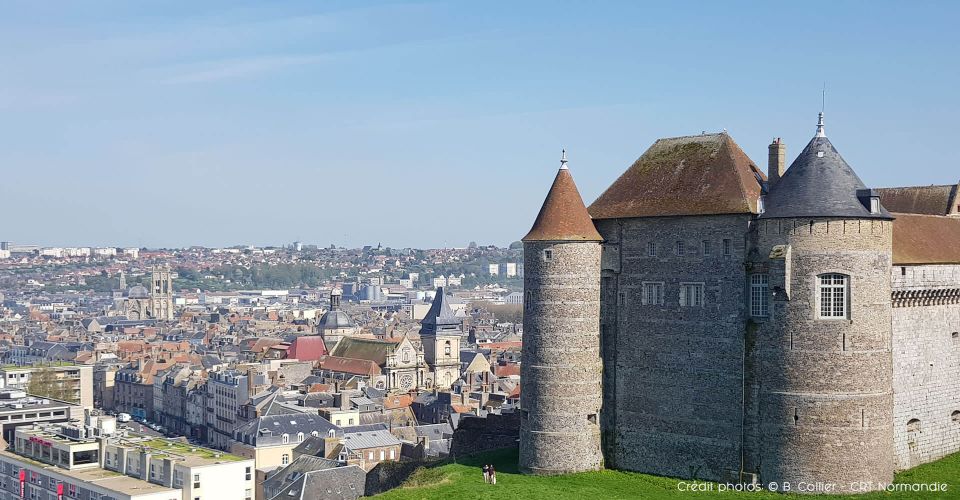 Make the most of your stay in Dieppe to discover our beautiful region and get plenty of activity. For those who love the open sea, go to L'Estran Cité de la Mer where you can discover all the secrets of the Normandy coastline.
For those who prefer the thrills of nature or visiting farm animals, you will find a lot of activities to do with family or friends!
DISCOVER THE ACTIVITIES AROUND DIEPPE