Confort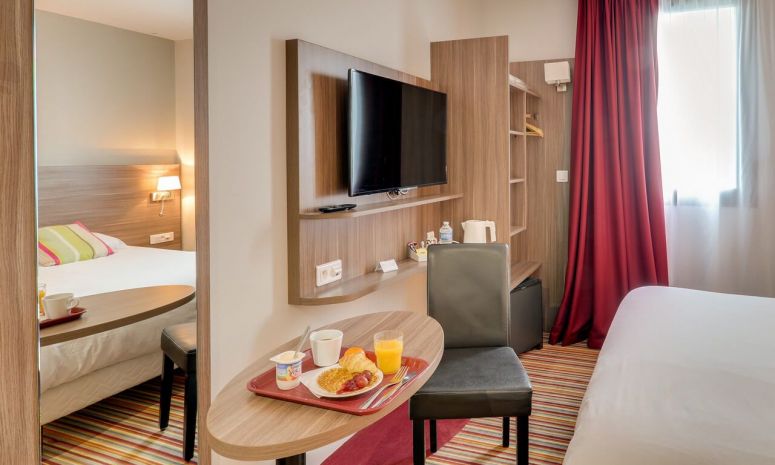 Our advantages
24-hour reception

Large private and secure parking lot

Balneotherapy baths
Our rooms
Our establishment is composed of 49 3-star rooms spread over 2 floors.
Most of our rooms can accommodate 2 guests either in large bed (160cm or 180cm) or with 2 separate beds. We also have some triple rooms and a family room that can accommodate 4-5 people, ideal for weekends and short stays. We also have 2 rooms accessible to people with reduced mobility.
Finally, please note that our establishment is entirely non-smoking.

Free Wifi

Home 24H/24
Bathrooms

Hairdryer

Breakfast Buffet : €11,00
Our standard rooms with a surface area of 16 m² are equipped with a large 160 cm bed or two single beds with a width of 90 cm. Depending on the room, you will find a bath or shower.
The Balneo rooms are equipped only with Queen-size beds (160cm). They have the same equipment as our standard rooms with the additional balneotherapy bath which will allow you a pleasant moment of relaxation.
The King size rooms have a surface area of 19m² and are therefore equipped with a large bed, i.e. 180cm wide. The bathroom in these rooms has a shower.
Our PMR (Person with reduced mobility) rooms have a 160cm double bed and their bathroom has an Italian shower.
All our rooms are equipped with a duvet and you can have a cot on request, free of charge, when you make your reservation. Also, all our rooms are equipped with a flat screen television and the free WIFI network. The bathrooms, on the other hand, all have an integrated hair dryer.
How to get to the Brit Hotel Dieppe
Dieppe
Near the hotel
Dieppe Castle
City of the Sea Astran
Saint-Jacques de Dieppe Church
Saint-Rémy de Dieppe Church
The cliffs of the Côte d'Albâtre
Dieppe Canadian War Cemetery
Access
In the car,
By train,

Bon hotel Chambre agreable.
Read more
Perfect for an overnight stay before the Ferry.
Read more
Plus points:-Excellent for what I required to catch the early morning Ferry. Negative Points:- 1) Finding the hotel needs to be addressed. 2) Also the night manager on checking out was more interested in playing with his phone, did not offer to help open the doors in the wind while I struggles with several bags. Also my jacket fell off my bags near the seating area in front of the reception area, and once outside due to the rain and wind i looked to put my jacket on and saw it was missing. It lay on the floor near the seating area while the night manager continued to play games on his phone. If it had not been raining I may have driven away without my jacket. He could be more helpful and more attentive to his duties.

Hotelier's response :
Hello, We are sorry for breaking up. We will make sure that the staff is more vigilant. cordially Sabrina
Read more
Good experience. Nice and clean rooms. Friendly staff.

Hotelier's response :
Cindy, nous vous remercions pour votre agréable commentaire, au plaisir de vous revoir chez brithotel.fr cordialement la direction Carole
Read more
Okay. Have had a better experience at this hotel. Staff very helpful but WiFi terrible - virtually non-existent. Breakfast more expensive and not as good as on previous stays.

Hotelier's response :
Thank you for your comeback. We are sorry for this feedback on the lack of wifi within the establishment. A change of terminal is planned quickly. We will increase our wifi capacity and link it to a greater number of uses See you soon Carole
Read more
Good. Easy to book. Relaxed atmosphere, attentive staff.

Hotelier's response :
See you soon on hotel-dieppe.brithotel.fr for your next stay, best rate guaranteed with many promotional offers. We will not fail to send your comment to Laurence our housekeeper and Melissa receptionist present during your stay with us. cordially Christine
Read more
This is our fourth visit and the quality is excellent as on previous visits. We would highly recommend it especially for access to the ferry.

Hotelier's response :
Dear, We thank you for your loyalty to our establishment. See you soon on brithotel.fr for the best guaranteed rate carole
Read more
Hotel was nice and quiet and the bed and pillows were very comfortable

Hotelier's response :
We thank you for your comments. We attach importance to the quality of stay of our guests. We regret your feeling for the heating, you have the possibility of increasing the temperature of + or - 2 degrees directly from your room. If that is not enough our receptionist present 24 hours a day will be happy to increase it. See you soon on brithotel.fr
Read more